It's been a lot of buzzes why Apple neglects Flash support in its upcoming iPad. Most of them concern just processor eating. While no one view with a different angle.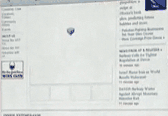 Flash is a separate code, so it can be used to upload smth. It can be a renewed link and price for the item mentioned or just as simple as a completely new ad. Let's take a look at thousands of "How-to…" e-books. The every article describing best techniques often offers some stuff within a topic: from little low-cost handy-s to high-quality professional equipment.
As a publisher, you sell your paper book once and that's all the revenue you can get from it. Don't forget that you need to share it with Apple. While being able to embed flash ads in an e-book the publisher can possibly sell its banner places more than once, creating an e-book ad market. Sounds good, yeah? But not for Apple. From Apple's business model perspective Flash is not just a piece of code merely impossible to control, but a Trojan horse that steals ad share.
It's quite sure that it isn't just about Flash ads – an HTML / JS /… based ads are the same issues whatsoever. That's why I'm looking forward to getting my hands on iPad books and magazines to find if it will have a static "non-updateable" ads within.