Just within one week after the Iranian social network wave named "Facebook revolution", when the web caused a dramatic impact and quick succession of events in real life, we observe an opposite influence. The death of a pop star Michael Jackson affected the web and caused a slowdown through of innumerous users' activity.
Google, as a world leading search provider, indicated a "volcano" growth of searches containing "Michael Jackson" with its peak just in 2 hours after the news become public. The fair quantity of looking similar searches even caused an anti-spam security system to block that kind of searches, being suspected of fraud or automatic searches.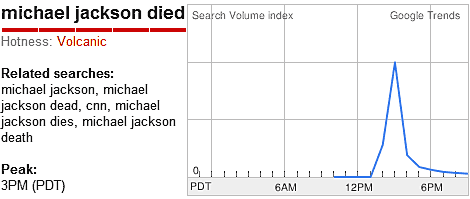 Among Google top-10 trends of June 25, 2009, four relate to Michael Jackson:
michael jackson died
michael jackson dead 2009
christian eyenga
jeff goldblum dead
la times
jeff goldblum
michael jackson heart attack
cardiac arrest
what did danielle do to dina
farrah death
Google wasn't the only site, affected, – according to BBC "traffic to the site at the time of Jackson's death was 72% higher than normal". The burst of activity in social networks lead to Twitter servers crash after 66,500 post updates related to Michael Jackson just within first 2-3 hours.
Internet giants like MSN, Yahoo, AOL, famous news-provider sites found themselves under attack of an incredible number of users hunger for new facts, pressing their browser's "reload" button.