These days Apple came with some new stuff. First of all, we all were happy to see Steve "vertical". Jobs has a liver transplant and he shoots a pipe that he's doing well.
Apple announced some new product updates: new iPods and new v.9 iTunes. Although it wasn't extreme new in core, new iTunes has some great improvements.
According to Apple's long-term play to became an Amazon within a multimedia market, the new iTunes provide customers with an iTunes LP (iTunes Extra) containing not only music, but a bunch of multimedia content (pictures, video add-ons, lyrics) that finally makes buying that pieces of aluminum, covered with plastic coming with paper inserts worthless. In its way, Apple is one of those who is real "green" and that's great.
Another iTunes improvement announced is a Home sharing, that allows sharing your iTunes stuff to up to 5 PCs (or, sure, Macs). Generally, it isn't something very special – previous iTunes versions allowed to share and play remotely iTunes content among PCs that are connected. The basic improvement is, actually, is the ability to copy that content, see and use playlists from another computer.
Unfortunately, here we came to a blot on a landscape – it's buggy. While trying to connect my two major PCs I've found Home Sharing disappearing just after turning it "on". Spending some time manipulating with different account settings the only result I've got is that now I work fine on a Tablet, but fail on a Desktop. Sure it should work properly, but in case iTunes Home Sharing has a bug, I wish it would fail in the opposite way. Well, Google search came with a bunch of posts claiming the same. Hope Apple will come with an iTunes bugfix ASAP.
There is some other stuff that should be noticed. The latest keynote became available at apple.com with a significant delay – all those who wanted to see it have already found it published by 3-rd party sites. Sure, it wasn't HD, it was ripped into pieces but it's all in the timing. Coming back to apple.com yesterday I finally found keynote announcement and tapped to play its HD version. Unfortunately, I've got the only sound with an on-screen QuickTime logo. Funny thing is that it is a brand new QuickTime that comes with iTunes 9.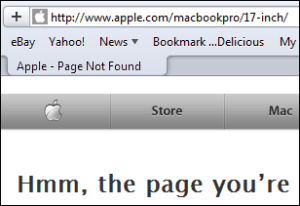 It seems like Apple came with a buggy stuff. Just a tiny off topic – try to click "MacBook Pro 17′" at Apple's home page. Hope I'm the only person to get "Page Not Found". That's OK, I will go through it, sure, too. The only hope it will not become a rule for Apple, the company that I do sincerely like for its UI's and design, to be buggy in every aspect.