I share the opinion that Barack Obama was elected by the Internet. At the very moment, we can see development in Iran, that in the future may be called "Internet revolution", "Facebook revolution" or "Social networks revolution".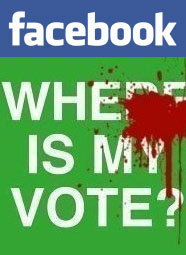 Cellphone captured amateur videos posted on Facebook and Youtube migrate to CNN and others air.
"We are getting new Iranian videos over the Internet constantly", "… the Iranian opposition leader left a message at his Facebook site telling he 'is ready for martyrdom' and calling for a national strike if he would be arrested"…
Hundreds of posts and videos on Twitter, Facebook and other kinds of social network sites, avalanche growing count of comments; thousands of people in different cities protesting, sharing their videos and pictures over the Internet;
Google added Farsi to its Translate service,
Facebook added Farsi version of the service and opened a special Iran site…
For the last 4 days of Iranian protests (according to Alexa rank) Facebook reached its historical traffic maximum. We have faced the evidence of Internet and social networks role in modern world. Iraq war was translated by TV, now – revolutions are made by the Internet.
Will the protests in Iran lead to the regime change or it will end up as a minority turmoil, but what is clear, is that Internet became one of the most (or even most) influential social media. I'm looking forward to reading researchers like "The role of Internet in Iran's 2009 revolution".
P.S. I'm not an expert in Iran's political life and not sure that Mousavi would be much more different (it's Iranian people choice), but, according to the pictures I see – it's more than just protests against voting fraud.
06/22/2009 add-on
In its evening report CNN talked about the role of Internet in Irans turmoil, naming it in different kind of "Facebook revolution", "Twitter revolution" or in general – "social networking revolution", quoting H.Clinton's "I wouldn't know a twitter from a tweeter, but apparently it is very important".